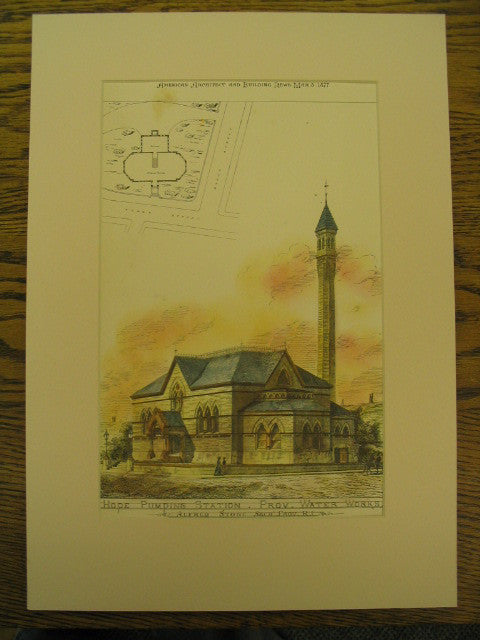 Hope Pumping Station, Prov. Water Works, Providence, RI, 1877, Alfred Stone
$ 45.00
Hope Pumping Station, Prov. Water Works, Providence, RI
Alfred Stone, architect(s). From the American Architect and Building News, Mar. 3, 1877. 11.5 x 16.25. VG+.
Exterior view and overhead view in upper left corner. An architect, Alfred Stone died in Peterboro, New Hampshire, September 4, 1908. He was born in East Machias, Maine, July 29, 1834. He studied surveying and drawing while attending high school in Salem, Massachusetts. He worked in several architectural offices until 1859 when he entered the firm of Alpheus C. Morse of Providence, Rhode Island. In 1864 Mr. Stone opened an office of his own in that city. The firm at the time of his death was Stone, Carpenter & Sheldon. Among the buildings designed by Mr. Stone and his associates in Providence are the County Court House, Public Library, Y.M.C.A. Building, Slater Hall and other buildings at Brown University, Exchange Bank, Pendleton Museum, and numerous private houses. He was elected an Associate of the American Institute of Architects in 1870, a Fellow in 1896, was its secretary from 1893 to 1898, and served on the Board of Directors until his death. He was an active member of the Rhode Island Chapter, of which he was president at the time of his death.