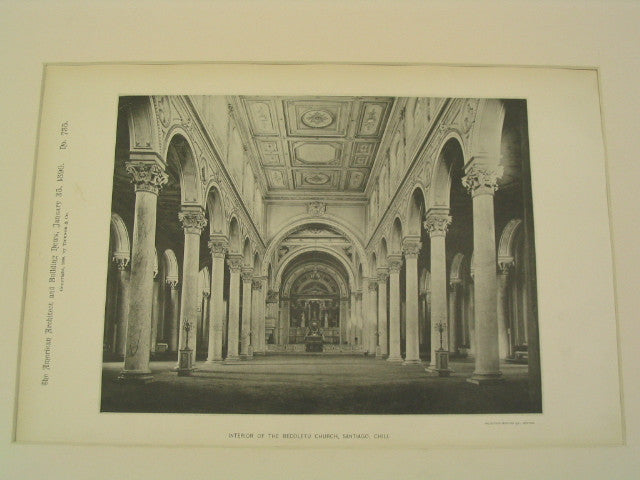 Interior of the Recoletu [sic] Church, Santiago, Chile, LAM, 1890
$ 39.00
Interior of the Recoletu [sic] Church, Santiago, Chile, SAM
From the American Architect and Building News, January 25, 1890. 16.25 by 12 inches (with border). VG+.
Iglesia y Convento Recoleta Dominica Located in calle Recoleta NÎ_ 686. Construction began in the middle of the eighteenth century, although the existing cloisters date from the end of the nineteenth century. The La Recoleta church dates from the 1850s, when a new altar for the old church was ordered from Rome. This picture is extremely hard to find. The American Architect and Building News had a very small circulation during this time and these original gelatine prints only appeared in a very limited number of issues that were distributed to a few prominent architects. Has a mat border and foam core backing (not attached to the picture). The whole picture measures approx. 16.25 by 12 inches (with border). Extraordinary detail in this early photographic print.